From: Jeremy Alderson
Date: Wed, Feb 6, 2013 at 9:04 AM
Subject: new No Frack Almanac!
[Edited by RL]
I am pleased to announce that the newest digital edition of the No Frack Almanac is now available at http://www.nofrackalmanac.com.  We're very excited about it, because this is, actually, our first issue to focus on New York.
Our lead article concerns the struggle in New York City over the Spectra pipeline, which is being built to carry fracked gas into the New York City market.  Most upstaters don't know much about this fight – we didn't either – but it affects us directly.
The article that may be the most chilling is the one entitled, "No One Will Be Protecting Us."  We've done our best to make a compelling case that, if fracking comes into New York, it will be with the clear intention of leaving the pubic unprotected.
[Ed note: personal request omitted]
The deeper I have looked into fracking, the clearer it has become that it was being planned on an almost unimaginably vast scale before we even knew what it was.  You could look at that in a couple of ways.  It shows the enormity of what we're up against, but it shows what they're up against too.  If they didn't fear the truth, they wouldn't be fighting it so hard.
Best,
Jeremy Weir Alderson
editor & publisher
No Frack Almanac
http://www.nofrackalmanac.com
FROM THE PREVIOUS NO-FRACK ALMANAC
On September 6th,
two activists
were arrested in
Manhattan, protesting against
the Spectra gas pipeline.
Among other things, they alleged that the
pipeline, slated to start carrying "natural"
(i.e. fracked) gas in November 2013, could
also bring up to 30,000 cancer deaths to
the city. Though we had known about
the Spectra protests for a while, we took
particular notice on this date, because on
the same day, without any coordination
whatsoever, three activists from upstate
(including the editor of this paper), were
arrested in Reading, New York, protesting
Inergy's plans to build a gas storage facility
in local salt caverns. It seemed the upstate
and downstate movements were more in
sync than anyone realized, so we resolved to
visit the city and see for ourselves what was
up with the Spectra protests.
We planned our visit for a day when
there would be a community
meeting on the pipeline that
we'd be able to attend. Many advocacy groups
are opposed to the pipeline, along with several
political organizations like the Village Independent
Democrats, the Three Parks Democratic Club, and
Community Boards two and four. Our advisor,
Clare Donohue, a kitchen and bath designer and
a founder of the Sane Energy Project, ensured our
welcome by sending this message to her fellow
Spectra resisters:
"It would be wonderful if we could convey to
[The Almanac's] rural audience why they are at risk
from these pipelines and the policies of our mayor,
which encourages the use of fracked gas in boilers,
busses and power plants; of his stated intention to
frack upstate outside of our watershed to supply
the city with gas. Many people upstate believe
that city folk do not care about them, that we have
taken their water for decades and treated the area
as a playground for the wealthy while they remain
impoverished. They don't all realize that we are in
solidarity and have much common ground."
Thanks to that kind invitation, lots of people
wanted to talk with us, and we met as many as we
could. Sandra Koponen – an artist and one of the
six anti-Spectra activists arrested on September
6th and/or September 12th (Sandra was arrested
both times) – volunteered to be our guide. When
we got to the city, she took us right to the Spectra
construction site at Gansevoort St., where the 30-
inch pipeline will enter Manhattan, at the western
edge of Greenwich Village (the old Meatpacking
District).
The bluegray
pipe rising out of the water is what's called a
"sacrificial joint," a precursor to the final pipeline.
Sandra admits to having a prior when it
comes to civil disobedience. She spent a week in
jail back in the Seventies, when she was 18, for
demonstrating against the Diablo Canyon nuclear
plant in California. It is worth digressing for just
a moment to look back at that movement, which
resulted in a clear loss for the protestors, despite
thousands of civil disobedience arrests.
The Diablo Canyon protestors, who felt the
plant would be too dangerous, were ultimately
overruled when the Nuclear Regulatory
Commission voted unanimously to license the
plant, calling it, "the most completely analyzed
building in the world."
The commissioning of
the plant was delayed at the last minute, though,
when it was discovered that "the most completely
analyzed building in the world" had been approved
with the earthquake supports for the cooling pipes
installed backwards. The plant was eventually
brought on line anyway and, decades later, the
Fukushima nuclear power plant, like Diablo
Canyon sited on a coastal fault line, showed why
the protesters were right that this was a bad idea to
begin with.
Nothing in this history has made Sandra
repent her activism. "We are sort of in a war,"
she says, "and people have to put themselves on
the line." She thinks fracking is "totally evil" and
"blatantly about greed" and she is concerned that
"the Marcellus shale has a very dangerously high
concentration of radon that will be transported
into people's kitchens."
This is a crucial question, and one of the core
issues raised by Spectra's opponents. In a much-cited
paper, Dr. Marvin Resnikoff of Radioactive
Waste Management Associates, noted that
"wellhead concentrations [of radon] in Marcellus
shale are up to 70 times the average in natural gas
wells throughout the U.S." And because the shale
gas fields of Pennsylvania (and maybe, someday,
Gansevoort at sunset
[See "Accidents" box on page 3].
In and of itself,
that doesn't make natural gas more dangerous than
other fuels (plenty of homes have burned down
from wood stove fires, for example), but it does
mean a gas pipeline is at its most dangerous in a
densely populated urban setting.
[Ed note: See photo of gas pipeline explosion in West Virginia at bottom of
Breaking News page on this Website]
According to an organization called Planetsave, 1823 children
live in the zip code where the pipeline will enter
Manhattan, and many more come into the area each
day to attend one of the three schools there.
We also spoke with JK Canepa, one of the
founders of the New York Climate Action Group.
She said, "Let me talk to
your audience in upstate
New York." She had
something very much on
her mind that she wanted
to convey:
"I come from the coal
regions of Pennsylvania. I
saw men in their forties
with wrinkles on their faces

We are only hours away from NYC, and the
radioactivity will not have time to decay. As a result,
Dr. Resnikoff predicted, there would be 1,182 to
30,448 excess cancer deaths over the lifetimes of the
11.9 million metropolitan area residents likely to
be exposed to the gas in their homes. Radon could
affect upstate homes too, but they are likely to be
better ventilated and, thus, safer than unvented NYC
apartments.

Before Sandra walked us to our next stop, we
tried to talk with the two security guards we saw on
duty. One basically just told us to shoo. The other
said, "I wish you the best [but] by me losing my
job, I'm not going to help your cause." By this time,
the sun was setting, and in one of those anomalies
that keeps life interesting, the area of this potential
engine of doom almost looked like it was graced by
heaven.

We arrived at our
designated West Village
meeting space and found a
lot of activists eager to talk
with us, starting with Erik
McGregor, a photographer
and documentarian, who
says he regularly posts
information on at least
20 websites and a similar
number of Facebook pages,
trying to get the anti-pipeline-anti-fracking story
out to the public.
"Unfortunately," McGregor acknowledges, "the
corporate media has done a great job distracting
people, pulling them away from the real issues and
bombarding them with advertising about how clean,
safe and beneficial is the gas industry and this gas
boom that will supposedly bring all the benefits to
the city. I want them to know that this gas is coming
with poison and has been placed in a very dangerous
area, where a simple accident will create a crater that
will level the neighborhood."

This is another of the core issues. McGregor is,
of course, right that pipelines do sometimes explode
lined with seams of coal. Their deaths were spelled
out on their faces. I saw my state devastated once,
and when we tried to recover, devastated again.
Pennsylvania is completely toxic now, most of the
state, even where my grandchildren are growing up
right outside Philadelphia… So I'm connected very
emotionally and deeply to the tragedy of fracking…
We care about where the gas comes from. We care
about the complicity that we ourselves have every
time we turn on the stove… There's nothing like
fracking for destruction."

Indeed, the overall need to stop fracking by
shutting off the market for fracked gas is a critical
part of the anti-pipeline movement. Conversely,
pipeline activists point out that the more the vast
New York City market opens up to fracked gas, the
more pressure there will be to frack upstate.

Sherry Lane, a resident of Manhattan's West Village,
whom we met with next, made a point
of saying that she lived "within the zone," meaning
the potential blast zone if the pipeline goes up. She
was one of the plaintiffs in a lawsuit, trying to stop
the pipeline, being brought by Sane Energy Project
(as well as NYC Friends of Clearwater, NYH20,
United for Action, Village
Independent Democrats,
Food and Water Watch and
several other individual
plaintiffs). The plaintiffs
contested the pipeline in
the state court system on
procedural grounds, saying
that legal requirements
hadn't been followed. When
we met Sherry, no ruling had
been issued. [Ed note: For update, see Breaking News page]
"It looks like Spectra just went ahead and did
what they wanted to do," Sherry told us, wondering
why the eventual outcome of their legal case seemed
of so little consequence. Coincidentally, Inergy's
Reading, New York salt cavern gas storage project,
where protestors were arrested on September 6th,
has also been getting what are, essentially, interim
permits and proceeding apace as if nothing can stop
it. Sherry says, "They're walking all over people like
us."
(Update: A judge subsequently dismissed the Sane Energy
Project lawsuit, ruling that the matter belonged
in federal court. The plaintiffs have chosen not
to appeal because, among other reasons, two
federal suits are already in progress. One is being
brought by Jersey City and the advocacy group No
Gas Pipeline [nogaspipeline.org]. The pipeline is
slated to run through Jersey City before crossing
the Hudson, and unlike NYC's Bloomberg, Jersey
City's mayor, Jeremiah T. Healy, has warned,
"The safety of our citizens is going to be put in
terrible jeopardy."
The Jersey City suit asks the
court to overturn the Federal Energy Regulatory
Commission [FERC] decision permitting the
pipeline and alleges, according to Derek Fanciullo,
one of Jersey City's lawyers, "that FERC long ago
abandoned its regulatory responsibilities in favor of
becoming a business partner to [energy] companies
like Spectra." The Sierra Club and Food and Water
Watch are also plaintiffs, and have brought a second
suit in a different jurisdiction.)

Photographer Joan Beard, another activist we met
with, not only has an apartment in the blast zone,
but takes her son to a nursery school that's in it too.
She says she loves the city, but has little confidence
in how it's run. "There isn't anybody who lives
around here who hasn't seen water or steam just
coming up from the street.
They've seen smoke coming
out of a manhole… I
watched the towers come
down. So many people
died unnecessarily, and that
was partly because of the
terrorists and partly because
people who were inside the
buildings were told to stay
in the buildings… 
No Frack Almanac
POB 237, Hector, NY 14841
855-UNFRACK
(855-863-7225)
nofrackalmanac@yahoo.com
www.nofrackalmanac.com
Editor and Publisher: Jeremy Weir Alderson
Copyeditor: Katerina Stanton
Photo Editor: Liz Alderson
Layout & Design: westhillgraphics.com
©2013, No Frack Almanac , LLC
All text by Jeremy Weir
Alderson and all photos
by Liz Alderson unless
otherwise marked.
What we Believe…
In our original statement of purpose, we wrote that the No Frack Almanac was a place to tell our side of the story. It is still that. But as we enter our second year of publication,
we want to state our beliefs simply and unambiguously, so there should be no doubt in
anyone's mind what viewpoint we represent.
We believe that fracking is a war against humanity. We believe that fracking is tyranny.
We believe that we are defending America.
Erik McGregor
Credit Source: Sane Energy Project Spectra Danger Zone Caption: The danger radius
(broader than just the blast zone) around the Spectra
pipeline
JK Canepa
Sherry Lane
Joan Beard

2 | The No Frack Almanac | Winter/Spring 2013
Accidents
Consolidated Edison's representative, Anthony Leto, presented
a talk at the Community Board 2 meeting
we attended:

Clearly, Consolidated Edison wants people to think that the
risks from piping massive quantities of gas into the city only
have to do with third-party damage or corrosion. There have
been lots of gas accidents caused by these factors, and
we're glad that Con Ed is preparing for such contingencies,
no matter that we cannot know how successful they'll be at
preventing them.
But those aren't the only contingencies.
We present here a list of some natural gas pipeline
accidents that caused fatalities but are not of a type, or not
fully of a type, that Con Ed says it is preparing for.

October 10, 1955 – A crew cleaning a natural gas pipeline in Orleans,
Indiana accidentally dislodges a coupler, releasing gas. Two members
of the crew are killed, three are injured, one severely, and two trucks
are "literally melted," according to a press report.
December 6, 1957 – As a crew is working on a municipal gas line
in the basement of a drug store in Villa Rica, Georgia, an explosion
erupts, killing 12 persons and injuring 20.
September 25, 1959 – A blast, apparently caused by a valve failure in
a natural gas pipeline, kills one worker and critically injures another in
Newtown, PA.
October 27, 1960 – Two members of a gas company crew are killed
when a 16-inch gas pipeline they are repairing explodes, just east of
Checotah, Oklahoma.
January 2, 1963 – A Pacific, Gas & Electric gas line explosion in
San Francisco injures nine firefighters, most of them critically. A
fire department battalion chief is knocked down by the blast and
dies of a heart attack. In a retrospective on the explosion, the San
Francisco Chronicle writes, "Documents contained in a mountain of
just-released PG&E paperwork show that over the years, the company
has found flawed welds up and down the 50-mile line. But there is
no evidence in the records that in all that time, the company ever
revealed the problems to state regulators.
February 7, 1964 – Two young maintenance men in Richardson, Texas
die of asphyxiation when a natural gas pipeline ruptures and they are
overcome by the fumes.
March, 1968 (exact date uncertain) – Four workers are killed when
natural gas from a pipeline being tested explodes in Portland, Oregon.
May 6, 1969 – The cap blows off a 24-inch gas main in Suburban
Pittsburgh that was being worked on. The cap punctures another
nearby gas main, causing an explosion that kills one and injures nine.
November 17, 1971 – Two workers are asphyxiated trying to stop
a natural gas leak in Pittsburgh, Pennsylvania, and four more are
asphyxiated trying to save the first two.
March 24, 1972 – A gas explosion, probably caused by faulty pipeline
installation, kills three in Annandale, Virginia.
June 1975 (exact date unavailable) – Gas seeping from an open gas
main seeps into a home in East Stroudsburg, Pennsylvania, which
explodes, killing one. Subsequent investigation shows that gas
company workers had falsified records to show that the main was
closed.
December 15, 1977 – A failing compression coupling, joining a
plastic gas main to a steel gas main, allows gas to migrate into two
buildings in Lawrence, Kansas. The resulting fire and explosion kills
two and injures three.
November 30, 1981 – Natural gas leaks into a section of 26-inch
pipeline being worked on by a welder in Flatwoods, West Virginia.
The welder's assistant is killed in the resulting explosion.
November 25, 1984 – A 30-inch natural gas pipeline ruptures
near Jackson, Louisiana and kills five. A subsequent investigation
determines that the pipe had been laid improperly.
February 22, 1985 – A failed gasket in an underground natural gas
line causes an explosion that kills two in Sharpsville, Pennsylvania
March 13, 1986 – A water main crew in Chicago Heights, Illinois,
accidentally snags a gas main, causing gas to leak into a nearby
house, killing one and injuring another. The official accident
investigation report notes, "Although gas company personnel arrived
on the scene approximately 10 minutes before the explosion and
shut off the gas at the meter, neither they nor the contractor's crew
had made an effort to warn or evacuate the residents of the house."
December 12, 1990 – A leaking valve between distribution systems
causes a natural gas explosion at Fort Benjamin Harrison in
Indianapolis, killing two and injuring 24. An investigation blames
the accident on the Army's "inadequacies" in managing its gas
distribution system at the fort.
July 17, 1991 – As a corroded section of 10-inch natural gas
pipeline is being removed in Mapleton, Michigan, a coupling is
dislodged and the pressure of escaping gas kills one worker and
injures five others.
December 28, 1991 – Excavation work dislodges a coupling on
a natural gas line, causing gas to leak into a wooden apartment
building in Santa Rosa, California. Two persons are killed and three
others are injured. An investigation revealed that the utility involved,
Pacific Gas and Electric, had declined to install excess flow valves on
their pipes, which might have prevented the accident.
January 17, 1992 – A gas explosion, perhaps caused by a failing
pressure regulator, destroys a Chicago neighborhood, killing three.
For two years thereafter, calls for a full public investigation are
allegedly ignored.
June 7, 2010 – A natural gas pipeline explodes in Johnson County,
Texas. One worker is killed and six are injured. An inquiry found that
the operator of the pipeline had violated many regulations.
September 9, 2010 – A 30-inch natural gas pipeline ruptures in San
Bruno, California. Eight people are killed. Witnesses report that the
initial explosion causes a wall of flame more than 1000 feet high.
Thirty-five homes are completely destroyed. The pipeline, which had
been installed in 1956, was found to have many defective welds.
February 9, 2011 – A natural gas explosion and fire in Allentown, PA
kills five people. Reportedly, the explosion was caused by a leak in
an 83-year-old cast-iron gas main that had been recommended for
replacement more than 30 years before because of repeated leaks.
trust the infrastructure? Do I trust the people who
are in charge of evacuating people? Do I trust the
mayor to tell people the truth about what's going on
if there is an emergency? I do not."
ED NOTE:  Photo of pipeline explosion in Sissonville, W. VA., 2012
Four houses destroyed (no one at home during explosion) and over a quarter
of a mile of Interstate 77 totally incinerated and melted.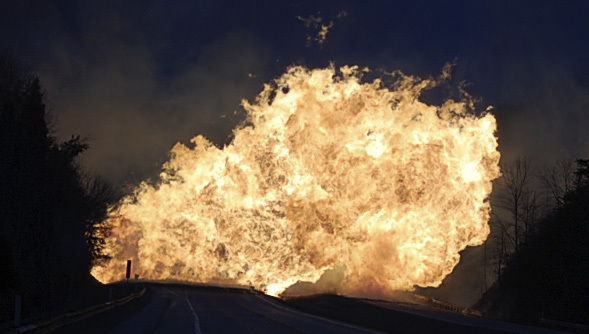 Article on Spectra Pipeline continued:
It was getting on towards time for the community
meeting, but we managed to squeeze in one last
interview, with Kim Franczek, a handbag designer,
who has been active with Occupy Wall Street.
"Occupy Wall Street bussed out to Staten Island the
day after Hurricane Sandy hit to aid everybody who
needed help out there…We
were helping people dig stuff
out of their basements. We
brought water pumps to their
houses and pumped out the
water. [We] were the first
responders, and some people
didn't understand why
Occupy Wall Street was out
there, and it's because we are
disaster responders. We're
responding to the disaster of Wall Street.
"All of the gas companies and oil companies are
completely destroying people's lives so they can turn
profits… They offshore their profit and then funnel
it back in… Everything is funneled through Wall
Street… Mayor Bloomberg wants to say he's some
green mayor. If he would really like to be considered
a green mayor, he would start investing in clean
renewable energy [but] he's so beholden to the oil
and gas industry that he's willing to turn his back on
the people."

THE COMMUNITY MEETING
We walked to the Village Community School, on
West 10th St., for the big community forum hosted
by Community Board 2, where representatives of
Spectra and Con Edison were going to face the
public. When we got there, several fortitudinous
members of the local constabulary were present,
but none of them would tell us why they were lined
up outside a simple community meeting. They
said that not one of them was designated to act as a
public affairs liaison.

The meeting room, a cafeteria, was divided
between representatives of Con Ed (Consolidated
Edison) and Spectra on one side, members of the
community board in the middle, and opponents
of the pipeline everywhere else. So far as could be
judged from the audience comments during the
two-hour meeting, not a single person had shown
up in support of the project, other than the ones
paid to be there. When a Con Ed representative
showed a graphic listing "Project Benefits," laughter
broke out in the room.

This was hardly surprising. According to Clare
Donohue, during the public comment period, nearly
5000 people filed comments against the pipeline,
while only 22 filed in support of it, all but one of
them connected to the project.
The moderator, who was also the head of the
community board, started by promising, "We'll
give everybody a chance to talk," before turning the
meeting over to Christian DiPalermo, who described
himself as "a consultant to Spectra Energy here in
New York on government and community affairs"
(he is also a vice-president of TLM Associates,
a public relations firm, that, besides Spectra,
lists among its clients Eli Lilly & Company, the
manufacturers of Prozac, Cialis, and Thimerosal,
which in December 2012 agreed to pay a $29 million
fine to settle charges of bribing officials in Russia,
Brazil, China and Poland).
DiPalermo began by saying, "It's nice to see
many of you again. We've been reaching out to the
community after more than two and a half years…"
This was, apparently, his way of explaining they were
there because they had to be there under the terms
of a pre-trial settlement in the Sane Energy Project
lawsuit against them.
He turned the floor over to Ed Gonzalez,
Spectra's main spokesperson at the meeting, and
Anthony Leto,
Section Manager of
Gas Transmission
Planning and Pipeline
Integrity for Con
Ed. Gonzalez and
Leto each made
presentations that
were interrupted
many times, but the
audience was quieted
by the moderator's
repeated promise that
everyone would have a chance to ask their questions
after the initial presentations.
When question time came around, a board
member cited improper welds on the San Bruno,
California pipeline that exploded in 2010, killing
eight people, and noted that, "the guarantees that
PG&E had undertaken were
completely different from
what they built."
In response, Leto twice
mentioned something about
defective pipe that shouldn't
have been used being the
real cause of the San Bruno
inferno. The first time he
said it, somebody in the
back shouted, "San Bruno
exploded because of the negligence of a utility
company," but Leto never gave a reason why Con Ed
would be more trustworthy than PG&E.
Liz, the Almanac's intrepid photographer, asked
the Spectra representative if they had an emergency
plan, and he said they did. Feeling that, till then,
they hadn't heard anything about emergency
planning, the audience was immediately abuzz and
wanted to know just exactly what this emergency
plan consisted of. Gonzalez explained that Spectra
had consulted with other agencies but wanted to
have its own personnel deal with the pipeline if
there was a problem. "What we're working on
now," he said, "is how the staffing will be placed
and coordinated, the work here in Manhattan,
and what we're doing is the staffing will be placed
appropriately to deal with that." That was pretty
much the entire answer.
Crisscrossing Michigan are more than 3,100 miles of old wrought- and cast-iron natural-gas pipelines — the type federal regulators consider the most at risk of corrosion, cracking and catastrophic…
Only four other states have more old iron gas mains than Michigan
. These pipelines don't just increase the chances of a leak — they're already leaking.
A large crack in an 83-year-old, cast-iron gas main caused a Feb. 9, 2011, gas explosion in Allentown, Pa., that killed five and damaged nearly 50 homes. A Pennsylvania Public Utility Commission investigation found a work order to replace the pipeline from December 1979 that wasn't acted upon. The commission in January fined operator UGI Utilities $500,000 and ordered it to replace all of its cast-iron mains within 14 years and its bare steel pipelines within 30 years.
A "substandard and poorly welded" section of 30-inch gas transmission pipeline installed in 1956 was blamed by the National Transportation Safety Board for a leak that caused a Sept. 9, 2010, gas explosion in San Bruno, Calif., that killed eight, injured dozens more and destroyed a neighborhood in the resulting fire. The NTSB found that operator Pacific Gas & Electric's pipeline integrity management was inadequate, as were state and federal utility regulators for failure to notice the insufficient pipeline monitoring.
Weimer said the additional scrutiny after those disasters still hasn't led to getting dangerous pipes out of the ground quickly enough.
Too often, Weimer said, utilities and regulators drag out investigations into natural-gas explosions, releasing findings after public attention has waned. The Michigan Public Service Commission still considers as under investigation a natural-gas explosion at a furniture store in Wayne that killed two employees and injured the store's owner in December 2010.
"To most local governments and citizens, pipelines are out of sight, out of mind — until something happens like in Royal Oak," he said of the explosion there. "We wish that attention could be focused and sustained in a way that led state utility commissions and Congress to change things in a meaningful way."
READ MORE: THE STATE OF THE NATIONAL PIPELINE INFRASTRUCTURE:http://opsweb.phmsa.dot.gov/pipelineforum/docs/Secretarys%20Infrastructure%20Report_Revised%20per%20PHC_1