issonville, W.VA pipeline explosion destroys homes, Interstate highway.
SISSONVILLE, W.Va. —Huffington Post reported that four homes were totally destroyed on Tuesday (Dec. 11) after a natural gas line exploded (see photo below) resulting in an hour-long inferno that melted guardrails and pavement on I-77. Although there were no fatalities, five other homes were seriously damaged and people suffered from smoke inhalation. All residents had been accounted for. Gov. Earl Ray Tomblin said, "They were just lucky enough not to be home."
Because of the risk of secondary explosion, officials urged people to evacuate instead of staying inside nearby homes.
The explosion occurred just before 1 PM in a 20-inch transmission line owned by NiSource, Inc. Although the gas flow was shut off, but state police warned that there was still pressure on the transmission line.
Observers stated that the fire rose 75 feet and stretched as high as the hilltops as flames spread a quarter of a mile, ran through a culvert beneath the Interstate, and incinerated the Interstate, turning the asphalt to cinder.
Federal and state investigators are now trying to determine the cause.
"It's one of those rare events that happen," the governor said, "and at this time we do not have those answers," he said
NiSource spokesman Mike Banas said the company was still gathering facts.
U.S. Sen. Jay Rockefeller, who chairs the Senate Commerce Committee and has made pipeline safety a priority, vowed to get answers.
The West Virginia Democrat said the National Transportation Safety Board is launching a team "imminently" to investigate, he said, as is the U.S. Department of Transportation's Pipeline and Hazardous Materials Safety Administration.
See a photo of the fire below:
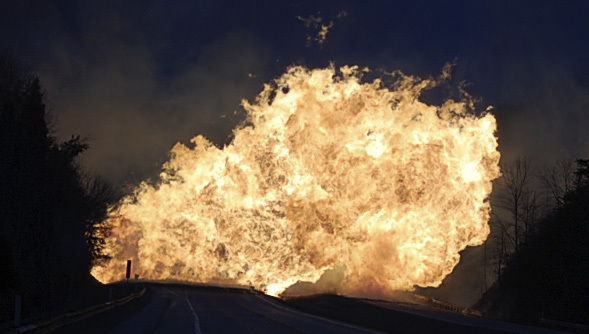 The Methane Beneath Our Feet
by Bill McKibben
Published on Monday, April 1, 2013 by The New York Review of Books
Insouciant New Yorkers—here is another pending disaster to shrug off
with characteristic brio! There is a huge, ongoing gas leak beneath your
very feet. A team of natural gas experts recently commissioned to survey
the New York system has found vastly elevated levels of methane in
locations all over Manhattan, a clear indication that Con Ed's
4,320-mile network of pipes, dating back to the 1800s, is corroded, full
of holes, and spewing methane into the atmosphere. The main danger here
is to planetary, not personal, safety: though it has received relatively
little attention, methane, the primary component of natural gas, is
second only to carbon dioxide on the list of greenhouse gases that are
inducing climate change.A temperature gauge at a gas powered electricity
plant, Las Vegas, Nevada. (Photo: Matt Mawson/Corbis)
This unhappy news actually comes as little surprise to those who have
been following the issue of gas leakages in recent months. Similar
revelations actually began to emerge some years ago, when a Boston
University professor named Nathan Phillips began trying to figure out
how much gas was leaking from pipes in Boston. He fell in with a former
local gas company contractor named Bob Ackley, who had been hired by gas
companies throughout New England to find leaks, which he discovered were
pervasive. As the years passed, he realized his employers considered gas
lost from a myriad number of small leaks simply a cost of doing
business, and declined to take remedial action unless there was
immediate risk of explosion. Dismayed, Ackley struck out on his own as a
whistleblower, finding an ally in Phillips. (The intertwined story of
Phillips and Ackley is well-told by young journalist Phil McKenna in a
recent e-book, Uprising, which also provides useful background.)
Because of the grave threat methane poses to the climate, the dangers of
natural gas leakages go well beyond the immediate risk of exploding
manhole covers (though recent measurements in Washington, DC indicate
that there is enough leaking gas to cause any cautious pedestrian a
certain amount of worry). And given the vastness of the problem, the
leaks challenge some of the basic assumptions of current US energy
policy, which has aggressively endorsed natural gas as a "clean" and
climate-friendly alternative to oil and coal.
Over the last four years, American leaders have boasted a great deal
about the fact that our country has lowered its carbon emissions, mostly
by switching some power stations off coal as the fracking boom has
lowered the cost and increased the supply of natural gas. Burned in a
power plant, gas gives off half the carbon that coal does—hence it's
been seen by some as a "bridge fuel" to alternative energy. Even some
environmentalists have argued that we should ignore the dangers to water
supplies posed by fracking in order to reap the carbon benefit.
The trouble, however, is that the methane in unburned natural gas is
twenty to one hundred times more potent than carbon dioxide as a
greenhouse gas. That makes the math fairly simple: if more than two to
three percent of the gas escapes into the atmosphere during transit
between its point of extraction in the ground and its final
destination—oven, furnace, or powerplant—then natural gas is actually
doing more damage to the climate than coal. A 2011 paper by a pair of
Cornell scientists estimated that the rate of leakage in the fracking
process might be as high as four or five percent, numbers that the
natural gas industry scoffed at. But earlier this year a National
Oceanic and Atmospheric Administration (NOAA) study of a gas field in
Colorado and Utah found leak rates as high as 9 percent. Those numbers
seem almost certainly too high—Nature called them a "small snapshot"—but
they also only measure leaking during fracking and pumping. Once natural
gas is delivered to a network like New York's, pipes with holes in them
obviously add to the problem.
More methane is accumulating in the atmosphere; the uptick began in
2007. While this coincides with the advent of fracking, NOAA scientists
think that, for the moment, more of the rise is coming from increased
emissions from tropical wetlands, and perhaps melting Arctic tundra.
Still, they say that "in the long term," increased natural gas drilling
may also put upward pressure on global methane emissions (especially if,
as seems likely, the fracking boom spreads around the world.)
The most corporate-minded of the big environmental groups, the
Environmental Defense Fund, announced this winter that it would join
with Shell, Chevron, and others to certify fracking wells, part of an
effort to reduce leakage. This move was quickly denounced by more
mainstream environmental organizations like the Sierra Club, as well as
local anti-fracking groups (one of which paid for the Manhattan leak
study). They pointed out the other huge problem with increased reliance
on cheap natural gas: it undercuts the transition to zero-carbon energy
sources like solar and wind power, locking us into long-term reliance on
fossil fuels. (Indeed the International Energy Agency recently modeled a
world that converted heavily to "clean" gas and found that its
temperature still rose 6 degrees Fahrenheit, a disastrous outcome.)
The EDF plans to announce the results of a study of its own in late
April, presumably adding yet another set of figures to the estimates of
gas leakage. For the moment, however, the new Manhattan findings add to
the growing impression that the carbon reduction achieved during the
Obama administration-supported natural gas boom may be a Pyrrhic
victory—or perhaps a better metaphor is a fad diet that cuts weight
quickly, but only for a short time, and at the expense of the long-term
changes in energy consumption we need to give ourselves a real chance at
a healthy future.
© 2013 New York Review of Books
Bill McKibben
Bill McKibben is Schumann Distinguished Scholar at Middlebury College
and co-founder of 350.org. His most recent book is Eaarth: Making a Life
on a Tough New Planet.
Gas companies reluctant to use shutoff valves

Blasts raise questions about gas pipeline safety

By Steve Everly
Kansas City Star
Published Sunday, April 14, 2013, at 6:45 a.m.
KANSAS CITY, Mo. — Turn it. Stop a leak. Save lives and property.
The role of an emergency shutoff valve on a natural gas pipeline would seem pretty straightforward.
But shutoff valves, in the hands of pipeline operators and gas utilities, are often toothless bystanders in the prevention of deadly gas explosions. Regulations require their installation, but not their use in emergencies.
Experts say that pipeline safety is governed by a mishmash of state rules and weak federal oversight. The natural gas industry, they say, has a torturous history with regulators, often working to delay reforms.
In many areas, the number of shutoff valves on the gas lines serving individual homes and businesses has drastically declined in recent decades. It's only recently that regulators succeeded in making utilities put updated valves on those lines, and then only on new ones.
Utility and gas industry representatives counter that they take safety seriously and that utility crews can plug leaks effectively — without using shutoff valves.
But
Jim Hall, former chairman of the federal National Transportation Safety Board, which investigates natural gas disasters, said shutoff valves are "as important as brakes on a car. …
"I've been waiting patiently for two decades for the industry to embrace safety."
The reluctance to use shutoff valves isn't unusual, safety experts say. When closed, they deny gas service not to just the homes or businesses nearby, but to potentially hundreds of customers. Service then has to be restored by utility employees going around and relighting pilot lights.
"It takes time and money, and they're reluctant to use them, especially when there is cold weather," said Richard Kuprewicz, president of Accufacts Inc., a Redmond, Wash., pipeline safety firm.
In recent gas-leak blasts, shutoff valves weren't used.
Instead of shutting the valves when the smell of gas was in the air before the February blast that leveled JJ's restaurant in Kansas City, Missouri Gas Energy waited for a backhoe to arrive from Raymore — more than 20 miles away — in a failed attempt to vent the leak. A waitress was killed and several people were injured.
Last year, Kansas Gas Service took hours to stop a leak in Topeka instead of using a shutoff valve. In the follow-up investigation, state regulators wondered why the shutoff valves weren't closed.
Regulators and industry watchdogs have the same concerns about deadly gas-leak incidents from California to Pennsylvania.
Missouri Gas Energy and Kansas Gas Service declined to comment for this article.
The industry has previously pointed out that pipeline safety has improved and that serious incidents and fatalities are down from a decade ago. In a safety statement posted on its website, American Gas Association, a trade group, said the highest priority is placed on safety.

Shutoff valves are sprinkled along every part of the country's natural gas pipeline network.
They stud the huge, high-pressure interstate transmission pipelines that carry gas from wells to cities. They're spaced along the distribution lines that run down streets and feed the individual service lines for your home or business.
They're at the gas meters that regulate the flow of gas to furnaces and water heaters.
In addition to the reluctance from utilities to use them and the reduced number of curb valves, a review of the use of shutoff valves by The Kansas City Star found other issues:
• While utilities are required to have easily accessible shutoff valves on their main distribution lines, loosely worded regulations govern the spacing of the valves, and that determination is often left up to utilities. That allows them to be spaced too far apart to quickly stop the flow of gas in a leak.
• Interstate transmission pipelines that crisscross the country — there's one running right beneath the Kansas City area — rely on manually operated shutoff valves that have to be cranked shut by hand. Remote or automatic valves on the high-pressure pipelines work faster, but many in the pipeline industry have resisted installing them.
In 2010 in San Bruno, Calif., a big transmission pipe burst, and utility workers struggled for an hour and a half to shut down the pipe with a manual valve. A huge explosion killed eight people, a grim example of the dangers, especially in populated areas.
Some pipeline operators, including the company involved in the San Bruno blast, have dropped their opposition to remote or automatic valves. But the industry in general still questions their usefulness.
The Pipeline and Hazardous Materials Safety Administration, part of the Department of Transportation, regulates most of the transmission lines draining the country's natural gas fields. It also sets minimum safety standards for pipelines operated by utilities.
But the utility pipelines are directly overseen by state regulators, who could toughen the federal standards.
The federal standards require that utilities be "prompt and effective" when responding to gas leaks, and utilities get plenty of practice.
Shutoff valves have a place in the emergency plans crafted by each pipeline operator, but utilities like Kansas Gas Service call them an option. Other methods are often preferred, including venting the leak so it won't become combustible. Or digging holes to crimp both ends of a pipe to stop the flow of gas to the leak.
In most cases, those methods work well. But disasters like JJ's beg the question about why shutoff valves on distribution lines aren't used more often.